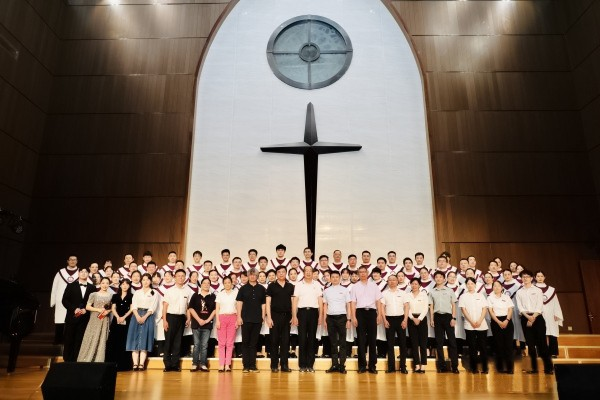 The faculty and students of Fujian Theological Seminary took a group picture after a praise meeting to celebrate the graduation on June 18, 2023.
Fujian Theological Seminary held a praise meeting to celebrate the 2023 graduation.
Chen Zengping, vice chairman and secretary general of Fujian TSPM, as well as vice president of Fujian Theological Seminary, delivered a discourse on June 18, said CCC&TSPM. In the speech, she exhorted every graduate to love the Lord with all their heart, soul, strength, mind, and strength during their service. Additionally, she advised that the graduates trust in the Lord with all their hearts and lean not on their own understanding
The service contained various elaborate and vibrant programs, including an original composition titled "Chasing Light". This piece encompassed a blend of Chinese and Western rhythms, which portrayed the aspiring idea of following God and living as light and salt in the world.
The sitcom "Those Years" reflected upon the graduates' time spent at Fujian Theological Seminary. In the Hand Dance performance, artists held ears of wheat, conveying the ardent desire to devote themselves entirely to the Lord and fight for the truth with devotion. The musical portrayed the extraordinary tale of a girl named Esther who risked her life to save her compatriots from danger. The talk show reminisced about sweet memories related to the seminary. Finally, the hymn "To Become a Living Sacrifice All My Life" from the choir of the seminary brought the service to a sublime climax.
- Translated by Stephen Huang